Social is so much more than just social marketing.
Social networks are channels for revenue creation, securing renewals, discovering new hires and so much more. Simply put, social media can be a strategic medium for the most cost-effective communication platform to influence your industry at scale.
Like how teams use phones, emails, meetings, conferences, direct mail and other forms of communication, when we shift our view of social media, we can utilize it as a powerful communication tool for business growth. Especially when you consider the quantity of people who have LinkedIn accounts, login regularly and use LinkedIn, and other social networks, as tools they use for research and influencing their industry.
To give social media a seat at the table, so to speak, as a key communication medium, we may need to remove some previous ideas or concepts about what social media is and its utility for organizations.
Social media is not just for marketing.

Social media is not just for sharing your brand messages.

Social media is not just for asking your team members to share your brand's social posts.

Social media for sales teams is not just about sending connection requests.

Social media is not just for using InMail to prospects.
How do buyers use social media? How do job seekers use social media? How does C-suite use social media?
How they use social media should dictate how companies who want to connect with buyer's use social media.
Buyers use social media to ask their friends and colleagues for recommendations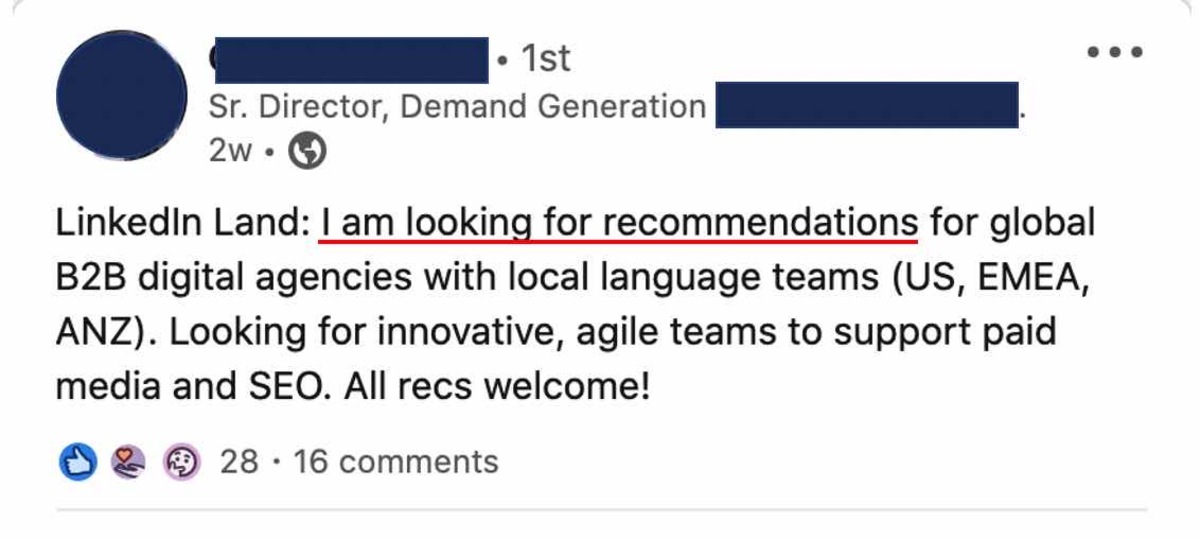 C-suite uses social media for research and to establish their own thought leadership.

Buyers use social media to research reviews and real user insights

Buyers use social media to discover industry voices to learn about new solutions and options for their own teams.

40% of LinkedIn Users login to it every day.
Digital transformation, new organization structure with more work-from-home and less travel has created big opportunities for organizations who are using social media more strategically throughout the entire team. When it is used as a central tool oof communication for more areas of a business including sales, customer success and HR, it becomes a key platform for growth.
Here are 5 key takeaways to the value of social media beyond only your marketing team using it.
Visibility and brand recognition in your industry
How many followers does your brand have for your corporate social media pages? How many prospective customers do you have on your email database? More importantly, how many measurable, highly qualified prospects and closed deals are you generating from these efforts?
Who actually follows your business pages? Are they competitors? Industry analysis? How many are actually prospective customers?
As an example, a company with 500 employees, a low opt-in rate of 30% of the team equals 150 people. The average person on LinkedIn has 980 connections which provides a potential reach of 147,000 people.
Plus, we know that highly engaging social posts also get shown to 2nd and 3rd connections. The amplification of your brand messages and team messages is massive. Plus, this type of reach is much lower cost compared to other channels with similar reach results.
Your team viewed as trusted advisors to clients and prospects
When asked, the majority of sales leaders say one of their big priorities for revenue creation is helping their sales team be known as industry consultants. The rise of Consultative Selling is proof of this high need.
When sales professionals, customer success and c-suite consistently share valuable, insightful content with your industry, your brand and team become viewed as influential industry leaders. Over short periods of time, your brand culture changes from a sales focused organization to a thoughtful, valuable and expert in the industry.
Measurable pipeline, revenue and new customer growth
One of the biggest misconceptions about social is the inability to measure value beyond simple Likes and comments. The FunnelAmplified Social Sales Enablement platform provides technology that captures valuable KPI's and provides insights into the most valuable social activities and their direct influence on pipeline, revenue and customer growth.
A recent customer attributed a 21.5% increase in revenue within 6 months directly from a small portion of their team using social with its existing sales outreach systems.
By the way, the Social Activate feature in FunnelAmplified is a daily sales tool to lead sales teams through daily social-based sales activities to complement their current calls and emails. Our customers find great success with implementing social alongside their current sales playbook in order to gather and compare KPI's and assess the best use cases and tools for their teams.
Your brand story and opportunities consistently and widely shared in social newsfeed helps attract the best talent without recruiter fees
Job seekers spend large amounts of time on social media. Even individuals who are not actively seeking new employment use social media to keep their eyes open for new opportunities. When organizations use strategic, daily and weekly social content as part of their overall communication strategy, a large benefit is the influence on new applicants.
Consider it this way, if a team has 150 team members who create and publish 10 social posts per month, It has potential reach of nearly 1.5 million impressions. Publishing social posts is a lot less expensive than recruiters and paid advertisements.
When your team is consistently in the news feed with high quality and highly engaging content, content is widely shared and dominates the newsfeed. This is what we like to call digital dominance. When, your team and brand dominate your industry's newsfeed everyday.
Shared sense of purpose and engagement for work-from-home teams
Work-from-home has challenged teams' ability for camaraderie and team bonding. There are only so many Zoom calls teams can do for happy hour and conversation. The newsfeed is where team members can consistently experience what their teammates are sharing, talking about and who they are engaging with.
Like any social opportunity, it is an opportunity for the entire team to participate with their co-workers' influence in the industry and share in their successes. This is especially valuable when leadership shares highly engaging posts.
The entire team can't go with leaders to key meetings. But, when social is utilized as a consistent communication channel, team members feel connected which creates stronger commitments to the organization.